Corn Germ Extraction Line
  Brief Introduction
  We extract corn germs by corn germ extraction line or corn germ extraction machinewith corn as the raw material to reduce alcohol technology pollution risk. Meanwhile, it can also reduce sugar degree loss for the alcohol enterprises and reduces alcohol starting crude processing capacity and discharging quantity of vinasse. Its by-product is corn germs, which is the main raw material for corn germ oil.
  The corn germ extraction line in alcohol plants can reduce production equipment input cost 25-30%. It doesn't need the smashing section, and can save the cost 30% for fermentation section, 25% for distilling section and 30-40% for vinasse processing.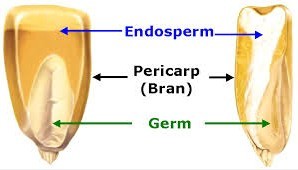 Working principle:
  This design scheme consists of cleaning, degermination, germ extraction, and flour milling. It has the following systems: medium voltage aspirator, high voltage aspirator, machinery conveying, and PLC automatic control. The whole production process is monitored by the industrial computer in the master control room.After germ removing, the caky germ will return the production line for fermentation. The starch and DDGS feeds has no any loss. And it can reduce the energy cost 20% in producing DDGS protein feeds and get high quality protein powder. Except germ and alcohol equipment pipeline cleaning, the maintenance cost for the whole plant can be saved 90% above. The steam dosage drops sharply and the sewage discharge becomes less.
  The by-product is corn germs, which is the core raw material for corn germ oil. It has high market value and increases the economic benefit for enterprises. Alcohol germ extraction technology with dry method is our patent technology and is successfully applied in many alcohol enterprises.
  Technical parameter:
Model

Power

Electricity Consumption per Ton

Yield

Workshop Size

KW

Kw/Hour

T/Day

L*W*H/M

100t

369

60-64

100

35×5×10(steel structure)

150t

554

60-64

150

42×7×10(steel structure)

200t

740

60-64

200

48×7×11(steel structure)

300t

950

60-64

300

48×21×29.4(steel structure)
  End Products Index:
  1. Products: corn germ, corn husks, corn kernel
  2. Yields: corn kernel 65%-70%, corn germ 8-9% ( purity ≥95% ), husks 25%
  3. Content:
  A. Whole Germ Rate: 95%
  B. Sand content: <0.02%;
  C. Magnetic metal content: <0.003;
  D. Appearance and taste: complete and clean germ, golden color, good taste.