Corn germ constitutes 8-14% of the total weight of the corn kernel, and includes 84-86% of the total oil content of the corn. Corn germ is the primary product for making corn oil and one of the important ingredients of animal fodder. Suction type gravity germ extraction machine can help us extract corn germ effectively and efficienctly.
Corn germ extraction machine usage:
1. Corn germ extraction machine is mainly used in semidry method and dry method corn processing project. It is the separation equipment for corn germ, corn skin and light impurities to improve corn processing auxiliary products value.
2. Corn germ extraction machine is the core equipment of corn germ extraction in alcohol enterprises, starch enterprises, starch sugar enterprises and feed enterprises.


Corn germ extraction machine working principle and features:
It utilizes the gravity between corn germ and corn granules and the different suspension speed, with the help of the airflow effect upward through the material intervals, urges the germ granules to realize size grading. Under the effect of germ extraction sieve plate which has orient inclined alternating motion, corn granules move towards the discharging end. Under the self-supporting effect, the upper-floating germ flows to the germ discharging port so as to separate the germ from the corn grits. This machine can help us produce germs with higher integrity and purity degree combining with our DTP kneading type germ separating machine.
The vibrating body is made of qualified aluminum alloy material, which has light weight, stable and reliable performance and long service life.
Corn germ extraction machine technical parameter:
Model

Yield(T/H)

Power(KW)

Air Volume(m3/h)

Weight(KG)

Outline

Dimension(MM)

YMTPX-80

1.5-2.5

0.75

3200-3400

350

1380x970x1997

YMTPX-100

1.5-3

0.75

3800-4100

380

1570x1150x1800

YMTPX-125

2.0-4.0

1.1

4800-5100

480

1615×1375×2065

YMTPX-168

4.0-6.0

1.5

7500-7800

550

1826×1550×2365



End products: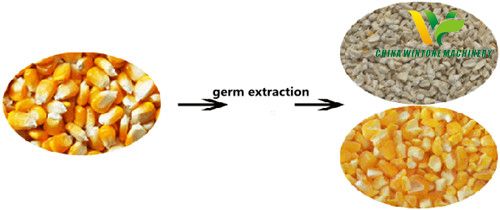 ~~~~~~~~~~~~~~~~~~~~~~~~~~~~~~~~~~~~~~~~~~~~~~~~~~~~~~~~~~~~~~~~~~~~~~~~~~~~~~~~~~~~~~~~~~~~~~~~~~~~
OUR FACTORY:

PROCESSING WORKSHOP:

CUSTOMER VISIT:

FAIR:

OUR TEAM: