150T Corn Flour Milling Plant with Dry Method
  Corn mill plant adopts dry method and mainly consists of corn cleaning section, corn milling section and corn packaging section. The corn dry milling process is a less versatile, less capital intensive process. In the corn milling process, the corn milling machine depends on one pair of opposite differential rotation to peel materials, extract the germ and grind corn kernels into fine corn meal.
  Core equipments of corn milling plant: vibrating sieve, classifying destoner machine, air blower, air suction duct, degerminator, germ extraction machine, corn peeling machine, corn polishing machine, flat sieve.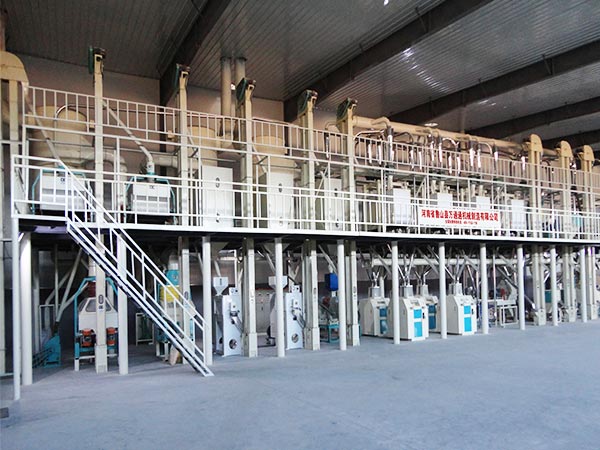 Corn mill plant features:
  Corn cleaning ensures high purity maize germ, grits and flour. New type maize cleaning machine and destoner ensure maize the best processing condition and the highest purity for further maize milling process.
  Dry milling process and high maize product yield. The completely dry method maize degermination, peeling, polishing and milling process ensures high yield of corn flour (75-80%), corn husks of 20-25%.
  Corn mill plant realizes easy operation and maintenance.
  Corn mill reduces equipment input in grain dampening and end products drying and makes the maize processing more sanitary.
  Corn mill plant working process:
  1. The plant needs to remove the impurities that adhere to the corn kernels surface, then polishes the corn kernels and makes them look more bright.
  2. The plant cleans the corn by once screening, once stone removing and once magnetic separation section to remove the big, medium and small impurities and the magnetic material from the corn.
  3. It goes into fine flour milling section, screening section and purification section.
  4. You can choose manual packaging or electronic packaging according to your actual demand.
  Explain for designing:
  A. Capacity: Processes 100 tons of Maize one day(24 hours).
  B. The quality of the raw grain: Africa Maize(soft or hard)
  C. Working system: 24 hours one day.
  D. The quality index of the corn (Remark: according to the customer's standard to adjust designing ):
Item

Spec. and Characteristic

Hard maize

Soft maize

Moisture content(%)

≤14.5

≤14.0

Hard maize(minimum)(%)

60

45
Quality

Density(kg/l)

≥660

≥660

Weight of thousand maize (g)

295(minimum)

280(minimum

Ash (%)

1.75(maximum)

1.7(maximum)

Impurity

Inorganic impurities(%)

0.4(maximum)

0.5(maximum)

Other grains (%)

0.3(maximum)

0.5(maximum)

Incomplete rate(%)

4.0(maximum)

6.0(maximum)
  1、 Electricity:220V&380V、50Hz(supply by buyer);
  2、 Water:Public tap water, ground water;
  3、Main design index:
  1).Capacity:100tones per day for corn processing;
  2).Project size:L×W×H= 24m×6m×8m;The steel frame structure can greatly reduce the investment in civil engineering. Silos for raw corn, finished product storehouse/silo is decided by user.
  3).Total Power:329.6kw;
  4).Workshop environment: workshop air dust concentration ≤10mg/m3. discharge outdoor air dust concentration ≤150mg/m3.
  4、Yield
  1)Corn flour:75-80%;
  2)Bran: 20-25%;
  E. End products index:
  1.Corn flour fineness:40-200 meshes (the flour fineness can be adjusted)
  2.Sand content:<0.02%
  3.Magnetic metal content:< 0.003
  4.Moisture storage:13.5-14.5%
  5.Fat content:0.5—1%
  6.Appearance and taste: bright color, fine powder, high quality and pure taste.
  End products:
  Yellow maize processing: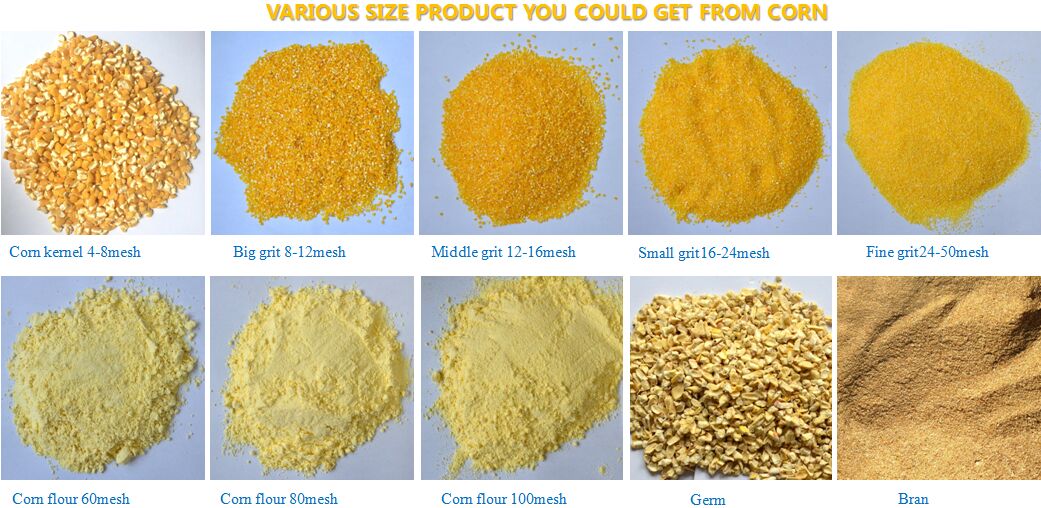 White maize processing:
  VIDEO: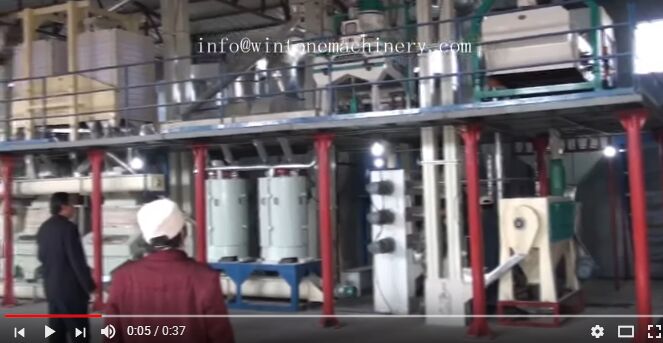 Overseas Offices:
  1.Office in Kenya:
  Address: Mudher Industrial Park, Off Mombasa Road, Next to Soham Petrol Station, Nairobi, Kenya
  Contact: Emma
  Email: wintone16@wintonemachinery.com
  2.Office in Uganda:
  Address: Plot 27. Luthuli Avenue, Buglobi P.O.Box 8338. Kampala, Uganda
  Contact: Sophia
  Email: wintone16@wintonemachinery.com
  3.Office in Ethiopia:
  Address: No.4 Floor, Yobex Building, Mexico Area, Addis Ababa, Ethiopia
  Contact: Jaspher
  Email: wintone16@wintonemachinery.com